History
"England's finest market town" - Country Life
Described by John Betjeman as "…England's finest town" and by Country Life magazine as "England's finest market town"…

Ludlow is steeped in tradition and history, but it is still very much a working town, a bustling centre of trade that serves a large, natural hinterland.

The market is central to life in Ludlow and it's surrounding villages and even warranted a mention in poet A E Housman's famous work 'A Shropshire Lad' in the line – "Or come you home of Monday, when Ludlow Market hums and Ludlow chimes are playing, the conquering hero comes."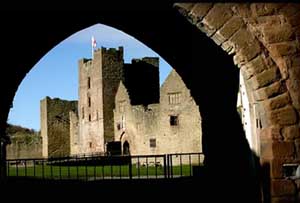 Ludlow Castle
Ludlow's commercial heart is clustered around the market square, at the top end of which sits Ludlow Castle. Once a major administrative centre where judges, lawyers and courtiers gathered to run the vast tract of England and Wales known as the Marches, Ludlow Castle is now a Grade I listed historic monument. It proudly stands atop a cliff overlooking the River Teme.

Like most of the listed buildings in Ludlow town, the Castle has been pressed into sympathetic modern use – it remains very much a working building, acting as the town's mediaeval equivalent of the NEC or Olympia. It's the home of annual events, including a vintage vehicle rally in May, an open-air Shakespeare production and festival held each year in June/July, the food festival September is known as the best of its kind in the country, and a Christmas Fayre with a very medieval flavour.


Ludlow Market
Ludlow Market is situated at the heart of the beautiful and historic South Shropshire market town of Ludlow. The market has taken place in front of the Castle for over 900 years, with the earliest references cited during the construction of the outer bailey, completed in 1086.

With local food producers still selling their wares in their local market town, Ludlow is the home of traditional food, produced the traditional way – from bread made with slow-rise dough, to hand-raised pork pies, and fresh fruit and vegetables, many of them from local farms. Ludlow is a town where the quality of life is great.

As you will read below, Ludlow's built environment is the backdrop for a thriving commercial trade that sustains a selection of quality shops and provides traditional and speciality markets in the market square five or six days a week for most of the year. Indeed, the Ludlow shopping experience is well worth sampling in its own right – you'll find a selection of small, family-owned outlets that sell quality products, or fine food and drink, with a personal touch.